More About Mojo
More About Me
Q: Why "Mojo"?
Short answer: It was how my nephew first pronounced my name when he learned how to talk.
Long answer: My little sister, an animator and (twice Emmy-nominated!) director, was a fan of the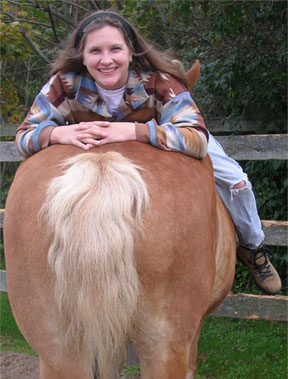 Powerpuff Girls. After a lifetime of my family calling me "Jo" she tried (unsucessfully) to get the family to call me MoJo-JoJo, after the evil mutant chimp on that series. ("Curses....".) It did not take. But when she started reproducing and the little one first learned how to talk, he started calling me "Auntie Mojo" and the family caught onto that like gangbusters. I suspect there was some coaching involved, but I cannot prove it and she just assumes a doe-eyed innocent look when I bring it up.
I have one of those multiname monstrosities and hence I respond to several variations, including "MJ", "Jo", "Mary", "Mary Jo", "Mary J" "Mary Johanna", etc. (Everything doubled when I married, too, with the added bonus of making all my names sound like a street sign.) The only rule is "no 'E', no hyphen" which is sometimes lost in the mix. I tend to use specific names for specific purposes, so if someone calls asking for "Mary" I'm pretty sure it's either a doctor or a telemarketer.
I went to high school at Enrico Fermi in Enfield, CT, where I was mostly active in the theatre group and (nominally) in the NHS. I then went to Webster University, where I majored in Media Studies (with an emphasis in Broadcast Journalism) and graduated with departmental honors. I edited the school weekly newspaper, the Journal, which won several state collegiate journalism awards.
I've written for newspapers, magazines, nonprofits and corporations—pretty much anyone interested in audience-specific communication. I also worked at Mount Holyoke College for several years, first in the Media Resources Department and then as an Instructional Technologist and the Director of MHC's Foreign Language Resource Center.
In my spare time I like to play the piano and my banjo. I'm trying to learn how to play the real Australian digeridoo a certain Nice Person gave me for Christmas. I'm a big fan of the old Bob and Ray radio shows, and my musical tastes run the gamut from Frank Zappa to The Weavers to Ella Fitzgerald, so you can imagine I don't listen to the radio that much anymore. (As a matter of fact I worship Ella as a goddess, so don't ever say anything bad about the woman in my presence or I will SO jump down your throat.) If that doesn't make me a loser enough, I like old Broadway showtunes, too: Cole Porter, the Gershwins, Irving Berlin, etc. I'm also fond of D'Oyly Carte Gilbert and Sullivan operettas. I just like good witty wordplay in general, which is why I stopped listening to the radio fairly early in life.
I also enjoy both CGI and cel-based animation, the Great Outdoors, sushi, origami, and the presence of most any critter that doesn't actively attempt to draw blood from me.
Brush with greatness alert: I think I saw a country music star once when I was hanging around the lobby of a posh hotel in Nashville (business trip). I'm not sure because I wouldn't know a country music star if I fell over him, but this guy walked by wearing this Elvis-like sequined cowboy suit and enough pancake makeup to look like you could peel his face off. He gave me a knowing sly wink as he walked by, sort of a "Yes, pitiful minion, it's really me" look. Evidently he misinterpreted my attempts not to stare open-mouthed as recognition, when I was really thinking "Who the heck would ever want to appear in public looking like that?"
I live out in the sticks with a very nice husband and a dog (Rosie, a Golden Retriever) and a cat (Sadie, a Basement Cat). I make frequent trips to NYC and Boston, since I live about half way between them, out in the Berkshires.